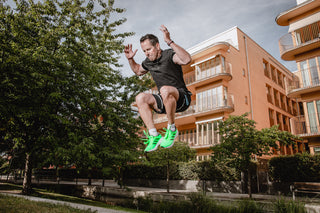 30 YEARS OF EXPERIENCE
About the Founder
Hi, Marc McKellar here! Welcome to Marc's Fitness Lab.
A little about me, I'm 56 years old, born and raised in California, now living in Stockholm with my wife Erika, son Ian, and rescue dog Rico. ⁠⁠I have over 30 years of experience as a concierge personal trainer, fitness director and gym owner. I also have a degree in Exercise Science and over 20 certifications.
As a lifelong fitness enthusiast, I constantly research and test the latest methods and technologies. I only incorporate the most effective and cutting-edge solutions with my personal training clients.
I have worked with people of all ages and fitness levels, from all corners of the globe.
I also know how to support my clients beyond the gym, which I call 360º fitness. Prior to moving to Sweden, I spent 3 years in Rabat, Morocco as the private personal trainer to His Royal Highness, Prince Moulay Rashid, an avid amateur golfer. You don't need to be a royal to receive concierge service, you just need to be my client.
My goal is to positively inspire everyone to make fitness an enjoyable part of their life. If this sounds like something you're interested in, let's connect. I offer free consultations and I'd be happy to meet you in person or virtually.